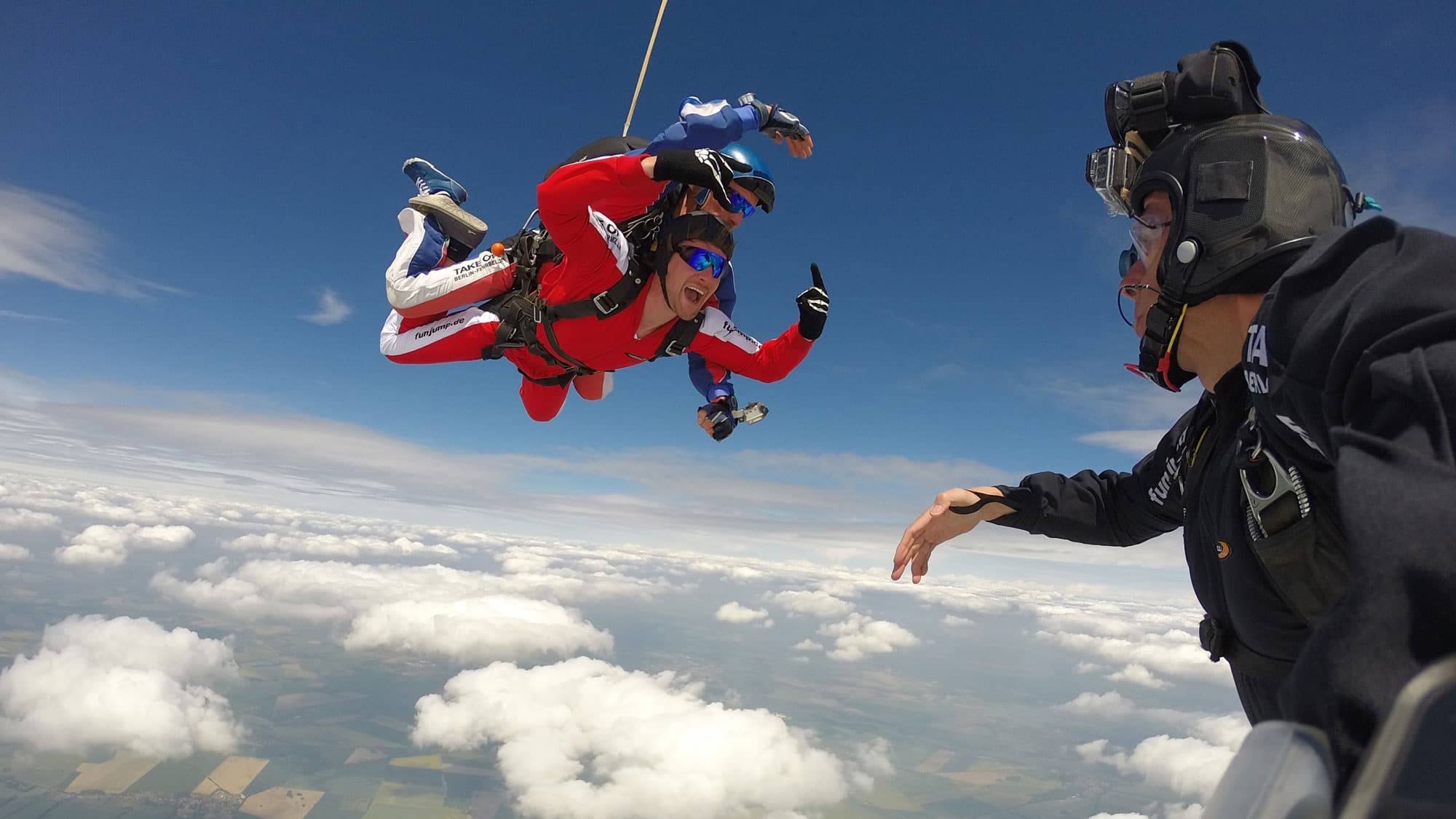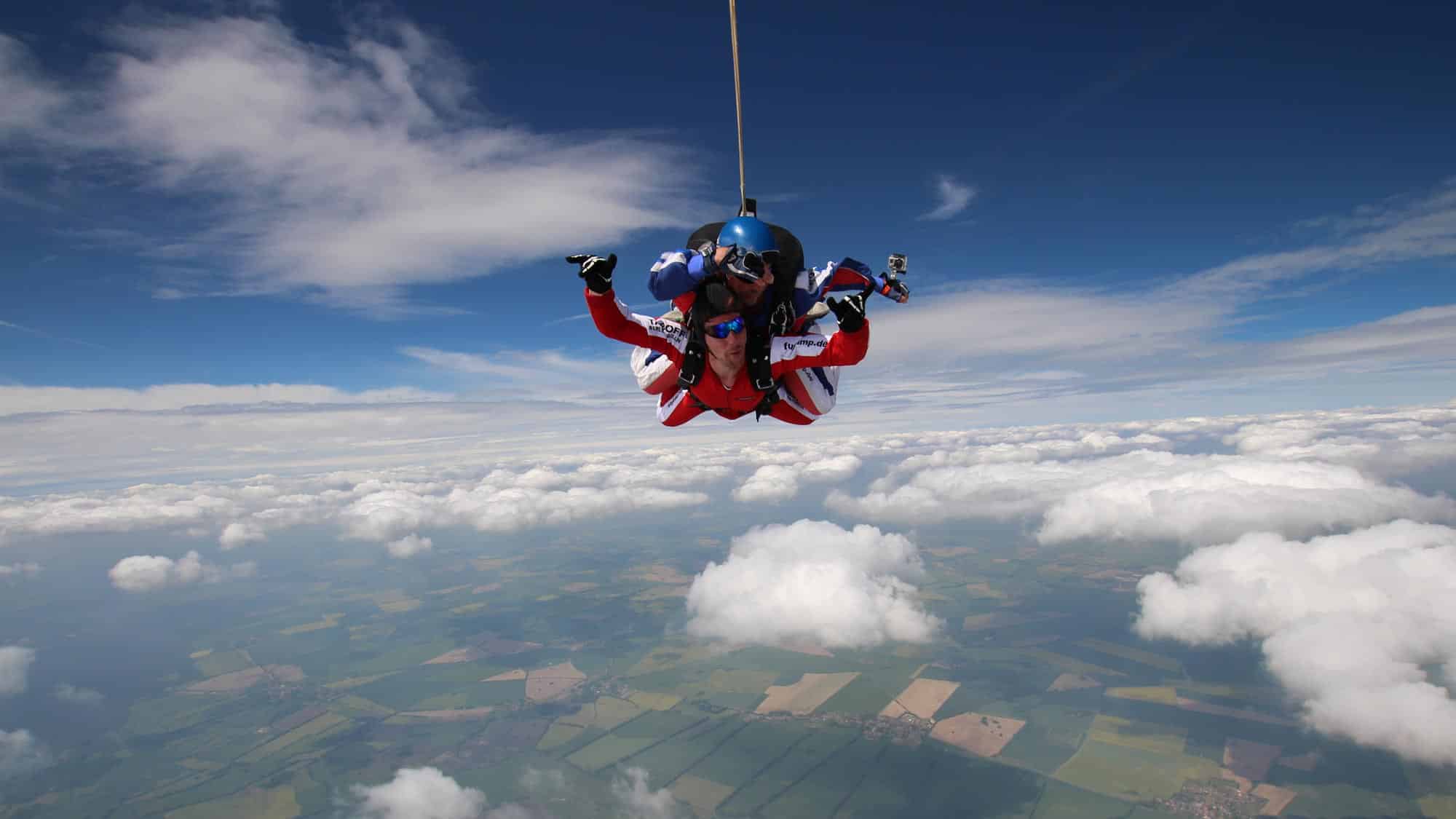 takeoff_fallschirmsport-tandemsprung-extra-videoman - copy - copy
Experience the dream of flight -
and a day to remember
takeoff_fallschirmsport-tandemsprung-extra-videoman - copy - copy - copy
Experience the dream of flight -
and a day to remember
takeoff_fallschirmsport-tandemsprung-extra-videoman - copy - copy - copy
Experience the dream of flight -
and a day to remember
A tandem jump is an unforgettable experience to remember forever. We take care of your safety so you can lean back and enjoy the adventure.
Safety plays an important role in our sport - especially if it is about skydiving with guests (tandem jumping) or training students. Since 1992 we have made the dream of flying come true for more than 42.000 guests who have experienced the thrill of a life time with us. TAKE OFF is therefore one of the most accomplished organisers of tandem jumps in Germany. Quite a few of our guests have become skydivers - and some of them are now experienced tandem pilots at TAKE OFF Fallschirmsport themselves.
Questions?
Just give us a call at 033932 – 72238 or send us a message using the button below.
TAKE OFF is a certified parachute rigging operation
Since we ourselves are a parachute rigging operation with full-time parachute technicians, all of our rigs are constantly monitored and always in the very best condition. Our parachute technicians are certified by the German Parachute Association (DFV) as well as by the Association of Independent Auditors of Air Sports Equipment. These certificates have to be renewed every three years with ongoing training.
All our tandem systems are Sigmas made by United Parachute Technologies. Although it is the most expensive, it is also the most modern, best manufactured and safest tandem system in the world.
Parachute systems with safety device cypres
For tandem jumping, sports and skydiving training, only skydiving rigs with ram air canopies and the CYPRES safety opening device are used. If necessary, this system will automatically deploy the reserve parachute at a height of 225 metres or 580 metres for tandem systems. In contrast to previous security systems CYPRES uses the latest computer technology and is therefore extremely precise. All our school and tandem systems have been equipped with this technology since 1992.
TAKE OFF establishes standards for skydiving training
Jürgen Mühling is co-partner, managing director and head of training and is the responsible head of the BFK (Higher Expert Commission / Training Working Group). Under his leadership, the German training guidelines have been completely revised and a new training manual has been produced.
Member of DFV – German Parachute Association 

The DFV is the only association for parachutists in Germany. The DFV ensures the safe and professional conduct of skydiving. Its tasks include issuing licenses, approving outlandings and assisting with questions of aviation law. The DFV is the representative of the Federal Ministry of Transport concerning all parachuting operations as well as a member of the Deutscher Aeroclub, the Deutscher Sportbund and the Féderation Aeronautique Internationale (FAI).
Website: www.dfv.aero
Member of the Association of Independent Auditors of Air Sports Equipment

The Association of Independent Auditors of Air Sports Equipment is addressing all parachute inspectors, riggers and technicians working in Germany and was founded with the aim of securing and developing technical standards. In addition, the association takes care of standardizing training guidelines for parachute technicians as well as providing extensive professional training and ongoing education to ensure safety in the sport of skydiving.
Website: www.prueferverband.de
You want to know more about take off fallschirmsport?

The perfectly good aircraft: OUr fump
Our jump ship

The aircraft we use is our very own 18-seater Cessna Grand Caravan. This plane is the world's most widely used aircraft for skydiving - a modern and reliable workhorse. "FUMP" as we call our jump ship tenderly has been converted in 2012 to a new and very powerful engine (900 HP instead of 675 HP). It reaches the jump altitude of 4.000m quickly and quietly in 15 – 20 minutes.
Recurrent maintanance

Our aircraft FUMP is serviced on a regular basis. The execution of all maintenance measures is documented in corresponding log books. Cessnas must be inspected once a year (regardless of if it has flown or not) and additionally every 100 flying hours. Our aircraft is therefore in maintenance approximately 4 times per season for a 2-3-day check and the conduct of scheduled maintenance.
Our safety standards also apply to your tandem pilot. Your tandem instructor must meet certain requirements: He has to have at least 500 jumps and a valid skydiving instructor licence in order to become a tandem pilot as well as extensive theoretical and practical further education.
TAKE OFF only works with selected tandem pilots who have an average of several thousand jumps. We have trained many of them ourselves. In addition to your safety, they also pay attention to their own. This is why we always use up-to-date, well-maintained and regularly tested equipment that meets the highest quality standards and fully complies with the legally stipulated guidelines.
Mahle has completed over 11,800 jumps. Skydiving and passing on his skills as an AFF instructor are his passion!
The training equipment at TAKE OFF includes mock-ups, instruction videos, vertical, horizontal and safety trainers as well as radios for landing instructions. The radio communication enables our instructors to provide any necessary flight guidance for our students.
As the responsible head of the BFK (Higher Expert Commission / Training Working Group) our very own Jürgen Mühling was responsible for completely revising the German training guidelines and producing a new training manual.
You want to skydive with us?
We are looking forward to meeting you!