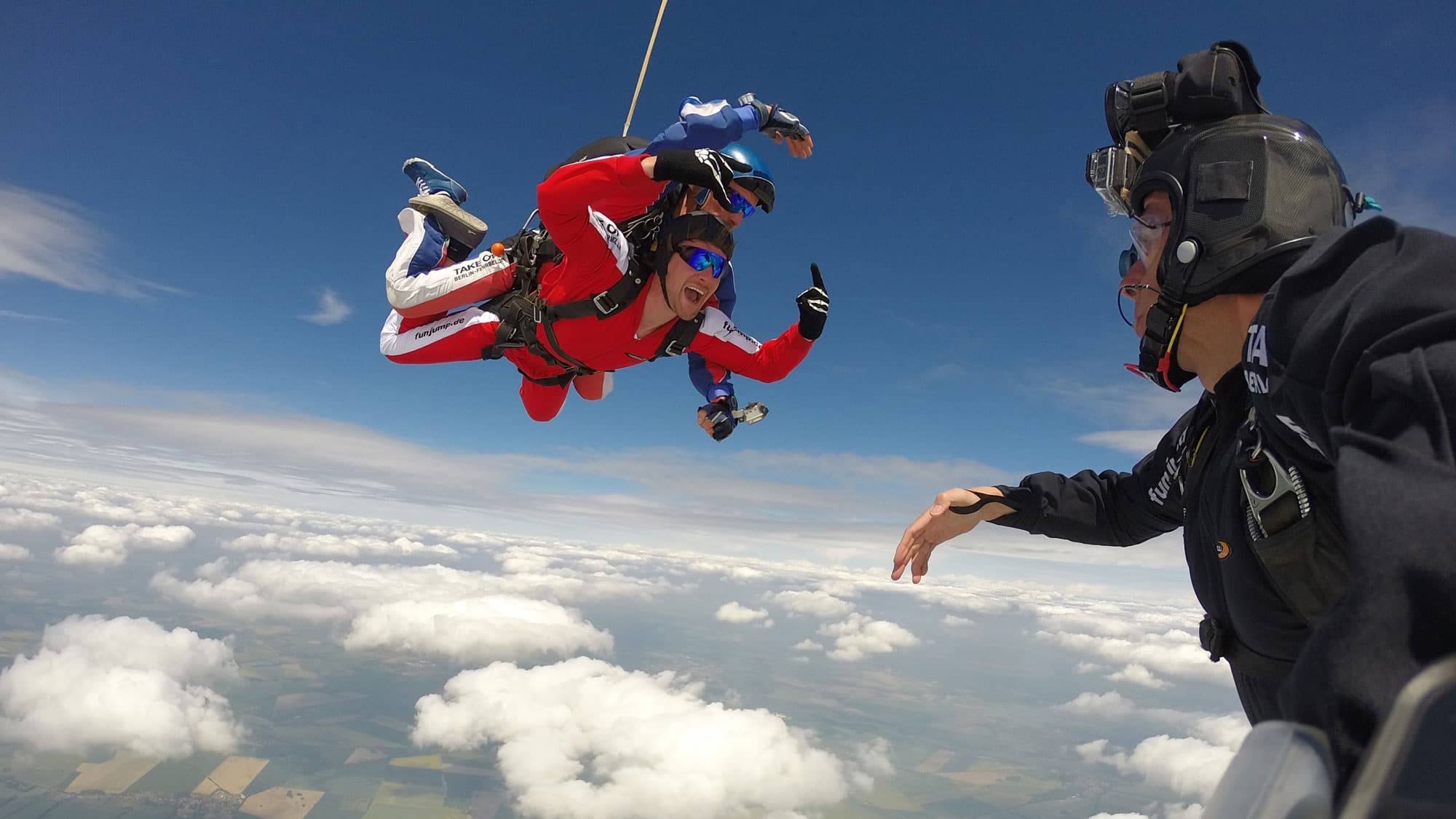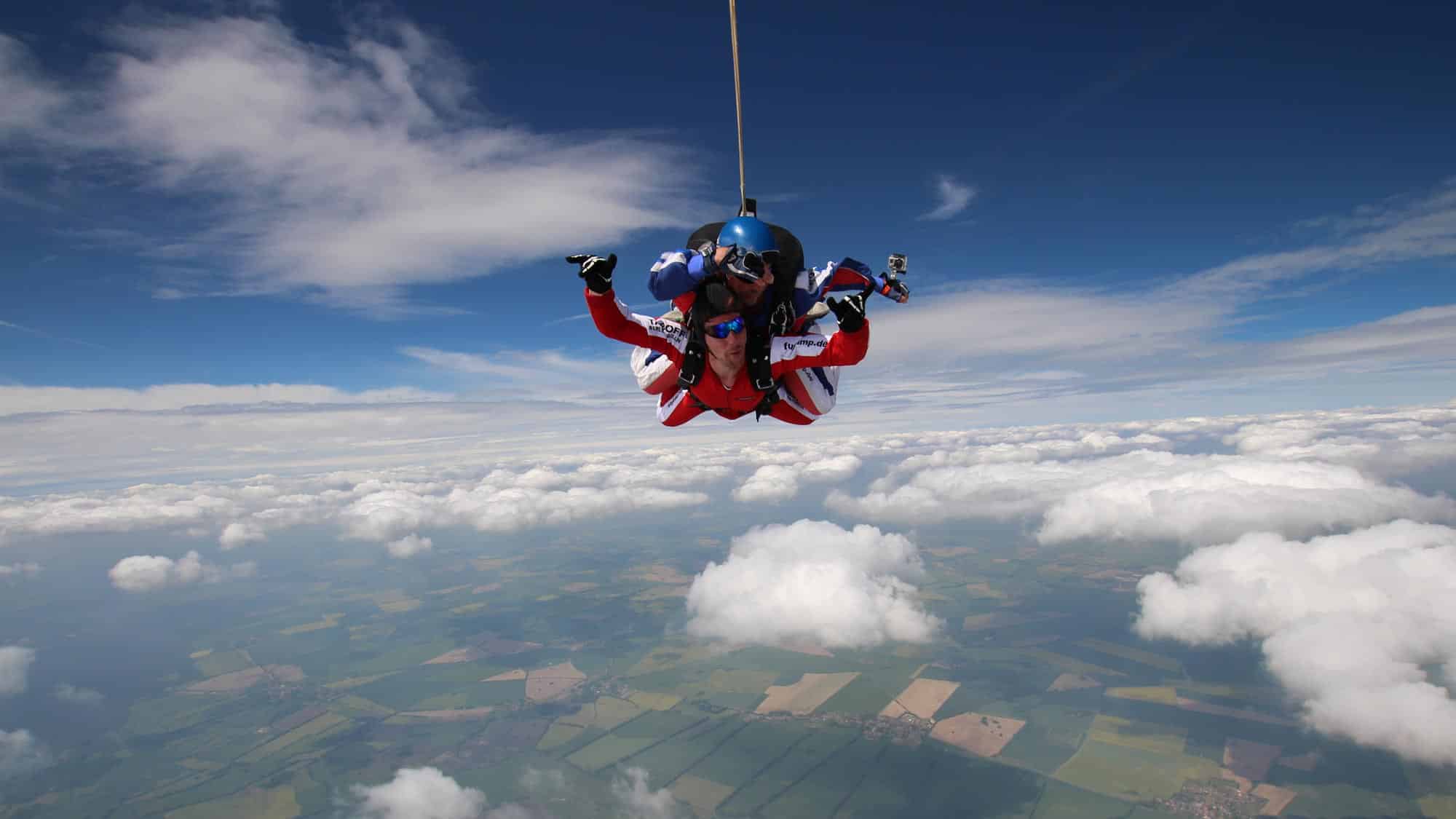 takeoff_fallschirmsport-tandemsprung-extra-videoman - copy - copy
Experience the dream of flight -
and a day to remember
takeoff_fallschirmsport-tandemsprung-extra-videoman - copy - copy - copy
Experience the dream of flight -
and a day to remember
takeoff_fallschirmsport-tandemsprung-extra-videoman - copy - copy - copy
Experience the dream of flight -
and a day to remember
Join us for the thrill of your life time and let us make your adventure extraordinary. Located just about 30 minutes outside Berlin we are one of the largest dropzones in the country and have been taking people up into the skies for 25 years. Tandem skydiving is the easiest and safest way to experience free fall for the first time. Our competent tandem pilots equipped with state of the art tandem skydiving systems make it possible.
Enjoy the ultimate freedom and escape from your everyday life all the way up to 2.500 or 4.000 meters. Bring your friends along to support you or, even better, share the adventure with you so can create unforgettable memories together. If your friends and family are not up for jumping they can cheer you on from the terrace of our bistro with front row viewing seats while enjoying drinks and tasty food.
Your skydive: what to expect
Pre-jump briefing, gearing up, the ride to altitude and the jump altogether take about 1 hour. Please allow a total of about three hours for the whole experience in case of weather delays.
Give us a call before your jump
On the day of your jump, approximately two hours prior your appointment, please give us a quick call so we can update you on the current weather situation.
After completing the necessary paper work you will receive a jump suit, a frap hat and a pair of goggles from your very own tandem pilot. Then he will brief the jump and answerall of your questions.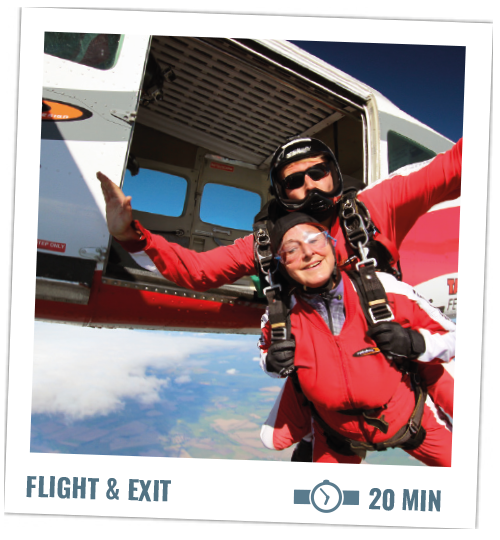 Now you are good to go. Together with other skydivers you will walk to the plane an, after boarding, get hooked up to your tandem pilot. The plane ride takes about 15 minutes to 2.500 or 20 minutes to 4.000 meters. Enough time to get excited.
At altitude the door of the plane will open. Together with your instructor you will towards the exit and before you know it you are out and falling- the ultimate adrenalin rush! Depending on your exit altitude free fall will take between 25 to 50 seconds. Your tandem pilot is always right behind you and in full control. Just relax and enjoy the ride.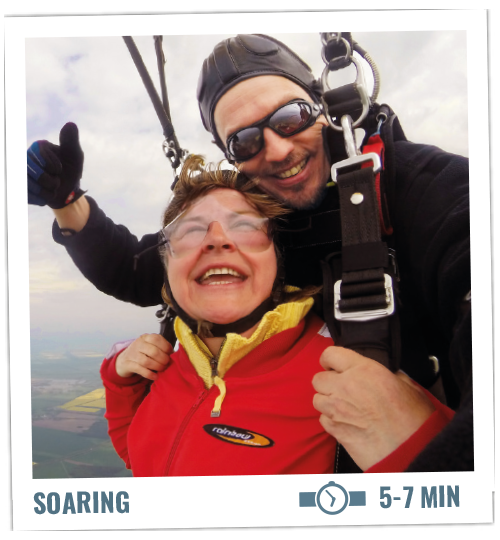 After 25 to 50 seconds free fall your tandem pilot pulls the parachute in approximately 1.500 meters. After deployment you will soar gently towards the ground while admiring the breath taking views over the vast landscape. Time to enjoy!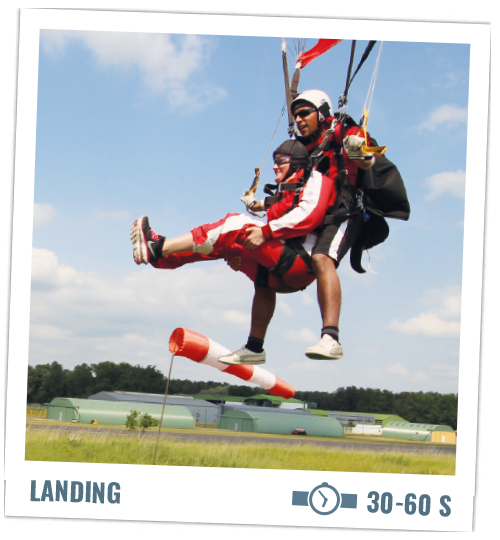 As practiced before when you are coming in to land you will lift up your legs so your tandem master can do his job and land the parachute safely for the both of you.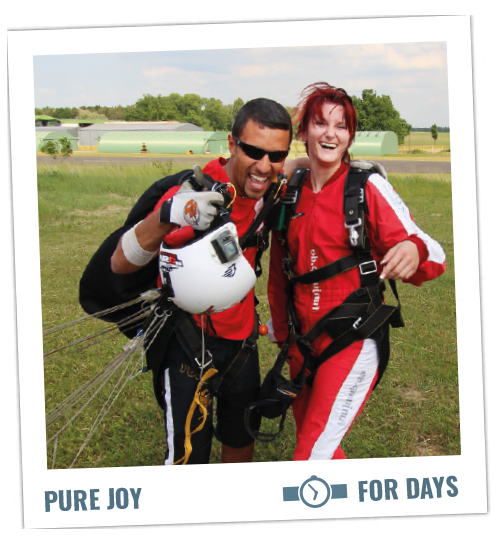 Welcome back to planet earth. The joy you will feel after landing is beyond words and you won't be able to stop smiling. "What a ride", "Incredible!" and "Let's do that again" are just one of the many things people shout out as soon as their feet are back on solid ground.
Body Height: between 140 cm and 195 cm
Bodyweight: up to 95 kg wearing shoes and clothing
Recommended minimum age: 12 years
No medical certificate necessary
Parental consent is required for minors
No alcohol consumption 12 hours prior to the jump
Wear comfortable clothes and dress for the weather that day
Wear sneakers or shoes that you know will stay on your feet. Please avoid sandals, boots or shoes with large buckles or hooks.
What our customers have to say about us:
Absolutely stunning and breath taking! I particularly enjoyed the free fall, I would happily fall twice as long. This was ...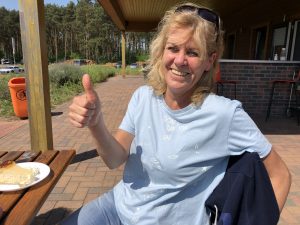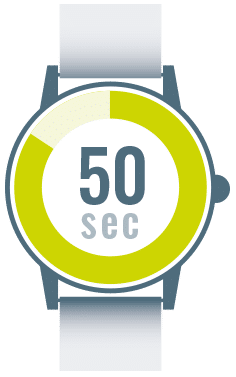 € 229 p.P.
most chosen
best price-performance ratio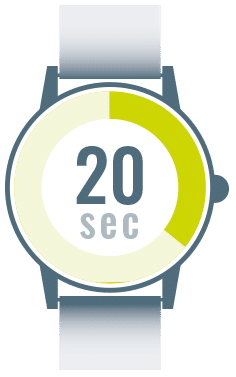 Introductionary offer with shorter free fall time
| Camera options: | |
| --- | --- |
| 1. Handy cam | |
| a. Video OR Photos | 70 € |
| b. Video AND Photos (= BASIC-Package) | 100 € |
| 2. Outside Videographer | |
| a. Video or Photos | 100 € |
| b. Video AND Photos (= PREMIUM-Package) | 130 € |
| 3. UNLIMITED-Packageall inclusive (BASIC- + PREMIUM-Package)You save 35 € when you buy the unlimited package | 195 € |
** Booking note: Please select in the normal booking process of a tandem jump at "1. voucher... Choose your options" the desired photo/video options.
Images of our tandem skydives
Happiness is only real when shared! Bring your friends, family and colleagues along for support. Non-jumpers are welcome just as much. Spectators can sit back and watch you land from the terrace of our bistro "Airbase" while enjoying a drink and a warm meal or some snacks.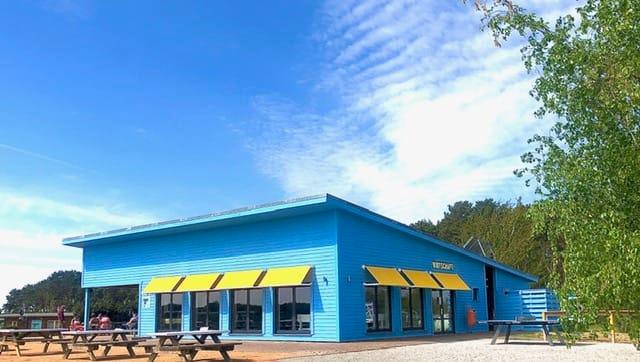 Here at TAKE OFF we are constantly striving to create a feel-good ambience for our tandem jumpers, sports jumpers and guests. We want everybody to feel at home and have a good time. Many guests compliment us on our excellent infrastructure.